So, it had finally arrived: the big day. A day that involved the composition of a brand new song; a day that entailed each pupil learning to play an instrument; a day that brought the entire school down to Bath Abbey for a Friday Afternoon concert.
And what an afternoon it was.
A quick glance at the crowded abbey nave had me thinking that perhaps an account of this concert may not be needed, as most parents were in attendance. However, just in case you did miss it (and to finish off this short blog series), here's a round up of how it all went…
First we were treated to the singing. The choral works composed by Benjamin Britten, sang by the whole school and conducted by Mr Bowers were brilliant. From the crash and clang of 'Jazz Man', through the evocative tones of 'A New Year Carol' and on to the haunting rounds of 'Old Abram Brown', the guys were outstanding. A hundred little voices powered by hearts full of passion was pure joy to listen to, and the response from the audience clearly reflected that.
But, the icing on this choral cake came in the form of our specially composed school song, 'A Living Tree'. The stage was now packed front-to-back, side-to-side with every single pupil of St Andrew's clutching an instrument. Cellos, drums, recorders, a trombone, violins, guitars and even little yellow shakers were all at the ready to deliver us a tree-mendous song.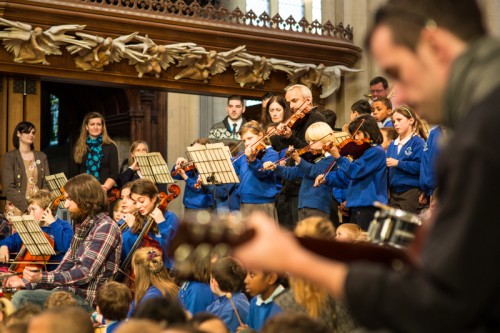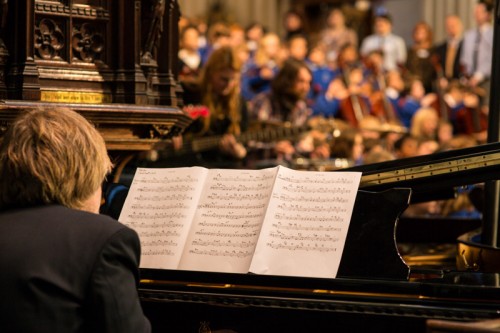 And boy oh boy, did they deliver.
Things started gently enough, with a trio from Year Six taking us back to our first day at school. But then we began our take-off. We rose and we rose and we kept on rising. Up through a mass recorder ensemble, bouncing along on a cheery piano solo, bowing before a majestic organ interlude and immersing ourselves in the joyous voices of our children. And then came that amazing final crescendo, rising way up to the roof and taking with it a little piece of every person in the audience. Wow… just wow.
Needless to say, what followed the final note of the song was a rousing cheer and standing ovation (led by the mayor himself).
Naturally, it was only right that an encore was demanded – with a little crowd participation this time too – and once the second round of applause for this had died down (and more than one tear was wiped away), the final act of the afternoon was to thank those responsible.
But, of course, those thanks could never be enough for all those involved and for the amazing experience they blessed all those children with (their parents too). So I'll say it again here:
Thank you, and a massive well done:
Well done to Maria for the leading role she played in getting this momentous venture realised. Well done to Will for writing such a wonderful piece of music and pulling it all together. Well done to Mr Bowers for bringing the choral work up to such a high level. Well done to the staff and parents of St Andrew's for all the additional hard work they put in. And finally: well done to each and every child for putting on a show that none of us will ever, ever forget.
Until the next time…
Oh and check out the gallery section for more images