On Friday we celebrated Sustran's Bike to School Week with a Cycling Extravaganza. All week, children have been encouraging their parents to ditch the car and instead cycle, scoot or walk to school. In class, they have been learning about bike safety and essential maintenance as well as the environmental benefits.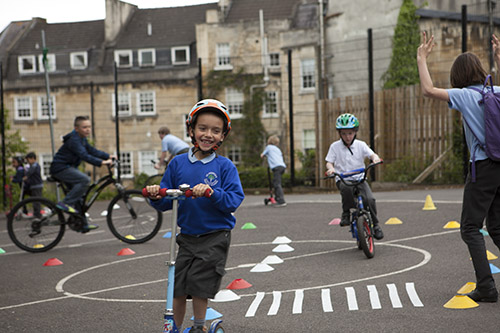 At the end of the week, children had the opportunity to put their learning into practice on a cycling obstacle course. There was a bike maintenance stall and a "bike wash" to teach children the importance of keeping your bike in road-safe condition. Adam in year 4 said, "It was fun!"
Charlie in year 6 added, "It's fun to cycle and it's better than driving in a car".
The head, Sue East, delighted in the event, "Cycling is great exercise and it also gets children out into the fresh air. This incentive has also encouraged members of staff to bring their bikes to school, with people cycling in from Peasedown and Bathampton. Sadly, many of our roads are too narrow or congested to enable younger children to cycle independently to school so I really welcome an event that provides a safe and fun opportunity for bike riding!"
Local ward councillors were invited to see the spectacle and Cllr Chris Pearce said he thoroughly enjoyed the afternoon, Cllr Andrew Furse was excited about the event and commented, "It will encourage more children to cycle to school".
Being such a centrally located school, teachers at St. Andrew's hope all the children will continue their efforts to alleviate traffic and pollution in the city. We can all help the environment by cycling, scooting and walking to school especially now that summer is finally here!